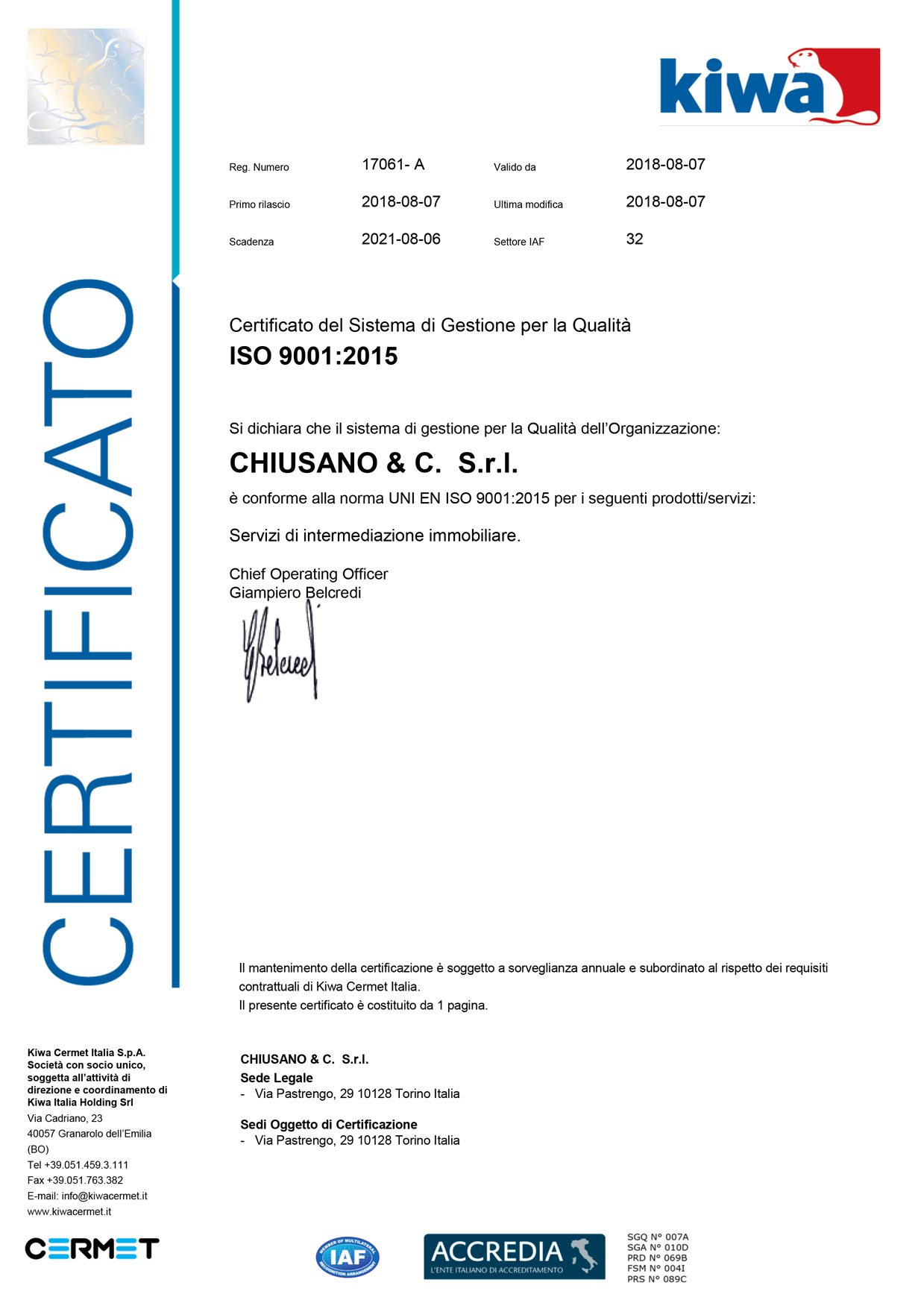 Our company has been operating on the property market for more than 30 years, carrying out real estate mediation activities for sales and rentals of properties for residential, commercial, industrial and service use.
The company management consists mainly of operative family members who are capable of guaranteeing the highest standards in terms of customer relations and constant training of a professional team specialised in all property sectors. Our company policy is based on the will to offer our clients the best service, regardless of the value and type of property.
The Company considers Quality to be of fundamental importance in the performance of its work, seeing it as a necessary requisite in every phase of operation.
Quality is essential across all the areas of our business at every level:
Commercial, in the economic valuing of the properties to be sold or rented, and in the tools for promotion and marketing (web, newspapers, posters, etc.)

Technical, aimed at achieving a thorough knowledge of the property to be sold or rented, both in terms of urban planning, construction, registration, systems, etc.

Administrative, mainly represented by the contracts with the client, such as sales/lease agreements, proposals for purchase/lease, and preliminary sales/lease agreements etc.

Attention to the management of interpersonal contacts between employees and collaborators in order to maintain a relaxed and collaborative atmosphere in the workplace, involving everyone in the company's growth and in the achievement of excellent quality results.
In order to guarantee and maintain Quality over time in the performance of the various activities, the Company invests considerably in staff training and refresher courses, and in providing them with the most advanced technological supports and tools, upgrading these on a rolling basis too.
The Company's main goal is Customer satisfaction because our Clients are our greatest assets. Success requires guaranteed transparency and visibility of the activity carried out at every stage of the relationship.
To this end, it is essential for the Company to focus its operations on the pursuit of a constant improvement in quality, which must be the starting point for every service.
In order to achieve this improvement, particular attention is paid to the progressive amendment or integration of the various procedures to be carried out, as new elements, data or knowledge considered appropriate for introduction into these procedures emerge, optimising and updating them.
Another aspect on which the Company intends to intervene to improve quality is the continuous and constant involvement in this process of all company resources, collaborators and employees, and of the directors too, thanks to external and internal training and refresher courses.